Happy Friday! I have a recipe for you guys that I am dying to try!!!! If many of you are like yours truly!! Shout out to all you pasta heads! I found a great dish from
Eat Good 4 Life
enjoy!! Tell me all about it and when I make it I'll tell you my thoughts too!
Tomato pasta with white wine and spinach
Miryam's original recipe
Ingredients:
1 lb whole wheat penne
1 lb jar organic marinara sauce, use your favorite one
1 14-16 oz can chopped tomatoes, drained
1 onion, chopped
4 garlic cloves, chopped
1/3 cup heavy cream
1/3 cup dry white wine
1 10 oz bag fresh spinach
1 cup shredded Parmesan cheese
1/3 cup crumbled blue cheese
1/3 cup chopped fresh parsley
3 tablespoons olive oil
1 teaspoon pepper flakes, optional
1 teaspoon of salt or to taste
Directions:
Cook pasta to aldente stage.
Meanwhile, In a heavy sauce pan, over medium to high heat, place oil and onion and cook for about 2-3 minutes. Add garlic and cook for 1 minute, just until fragrant. Add white wine and reduce it by half. This will happen rather quick. Add drained tomatoes, salt and pepper flakes if using. Cook tomatoes for about 3-4 minutes.
Add marinara sauce, cheeses, heavy cream and parsley and stir to combine letting the sauce cook for another minute or so. Add seasoning to taste (If you find the sauce is too thick for your liking you may want to add more cream). Turn heat off and add the fresh spinach. Toss in the drained cooked pasta and stir to combine. Sprinkle
Serve while still warm with some sprinkled Parmesan cheese and more parsley.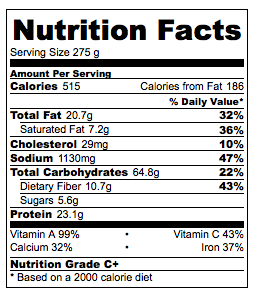 Nutrition facts calculated based on the recipe giving 6 servings.
Read more at
http://www.eatgood4life.com/tomato-pasta-with-wine-and-spinach/#BqF2ZmlySrgPfgRk.99
P.S. My husband said I like this because of the wine! Haha he knows me well!!