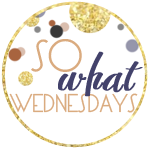 Let's get this thing popping shall we, because this week I'm saying SO WHAT IF......
1. I haven't done laundry in a week...lazy what can I say
2. I had a dream about zombies, after watching World War Z...that movie freaked me out.
3. I never drink coffee but today I stopped by Starbucks for a huge cup and I'm still tired. Running from zombies require a lot of energy.
4. I saw the cutest baby in the store last night and for that brink moment I got baby fever...very short lived baby fever!
5. I'm writing this post knowing I'm supposed to be working.
6. I'm doing the happy dance because it's fall!
7. I'm thinking about cutting ALL my hair off like I did before, I don't do a thing with it now so why not?
8. I can't stand immature people...make me sick
9. I can't find ANYthing else to bitch about in this post....I guess I'll have to link up with
Crystal
again for Thankful Thursday, so I can redeem myself from all this ugliness and complaining I vomited on this blog today.
Peace out peeps!