So today I got up and I was reading
Amber's Blog
and
Beth's Blog
and they were doing what's called a *link up* with
Darci's Blog
called
"5 on Friday"
and it looked and sounded like something easy and FUN, and a good way to connect with others!!!! So I said I want in!!!!!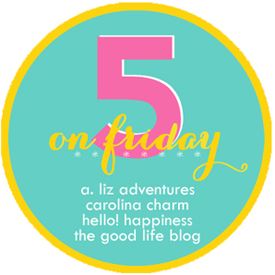 *1. Some of you know that my Step dad's father passed yesterday, (The BEST man I've ever known)... so we are headed home to Louisiana tonight (yesterday was too busy for my family to meet us) so today we are packed and ready!
*Brother and Grandfather last year* Missing him already
*2. I got a new
Polar Watch
and I'm loving it!!!!!!! I did have one before but it didn't last but maybe, 5 months and kicked the bucket!!!! This watch changed my life and my weight loss, and kept me honest and helped me push myself!!! The first two months I had my watch I lost 15 pounds, by just knowing something was on my arm, it made me go HARDER!!! So POLAR WATCH====APPROVED!! Even if the first time you died on me so soon!!
*3. Brandon is ready for his road trip, he's getting so big!!!! He went to see the doctor on Tuesday and for the first time in a year, he was without an EAR INFECTION!!!! I'm one happy mom!!!! Go Bran!!!
*4. Tell me why I've become so obsessed with Summer Sandals, even though I have the ugliest feet in the world, and probably don't need to draw attention to them!!! Ugh this time last year I would have never wanted any like the one's below...I sit on the computer *ALL the TIME* looking at these...I know if I buy them Spencer would have a cow...so I'll just "online wish" lol!! Well till he isn't looking
*5.
Finally!!!!
I can't wait to make this
Skinny Chicken Alfredo!!!
for my mom!! We are MAJOR pasta eaters in my family...but we've always eaten the unhealthy version....so it'll be nice to show them what ways I've learned how to eat my fav things, and still LOVE them!!!!
*Everyone should go to Darci's Blog and see what everyone put for today* Fun Fun!!!
Happy Friday!!! T.G.I.F!!!!!!!!