For the last few weeks, I've been feeling so blah....I don't even know how to explain blah....lol but I have been.....So I think your mind knows when you are about to be on vaca and it starts to tap into "Lazy" mood and your system prepare for it's own "Vaca Shut down" so I really think thats what's going on with me!! So Saturday me and Brandon are traveling to what I like to call "Tha Boot" aka Louisiana for some much needed family time, with my Mom, Sister, Dad, and brother brian!!!! WHOOOP!!! #I'mfistpumping while typing!!! For those that don't know, I'm a Pelican State born and raised gal!!! Slidell, La that is>> #stillfistpumping!!!
I posted this pic to show y'all what my family saw last year when I was there!! A whopping 226lb girl!
I'm sure I ate that whole cake/ice cream by myself
You've seen this pic already!
I can't wait to get away for a while and spend time with them and catch up and laugh and reminisce on old times...and side note: I haven't seen my family in a YEAR, in case you missed that in the above pic!!! Yea, cra cra right?! So yes they haven't seen me since 50 lbs ago!! I'll miss my husband...He can't go because he hasn't been on his job for a year....so no year=NO VACA <tear> But we'll be back before he has a chance to say "babe what's for dinner"!
Just pray for Bran Bran baby because he doesn't see my fam that much and last time he cried his little head off the WHOLE trip....Lord, I thought I was going to go crazzz!! But I know he was in different environment, so hopefully this time he'll have a blast!! Pray Pray!!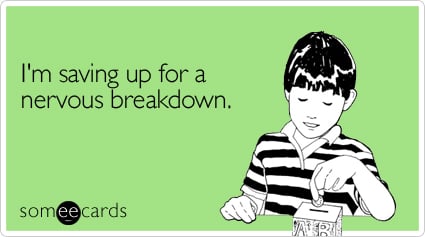 Random thought class 101!! Y'all know I'm famous for a random thought! ( I couldn't
wait till Thursday, which is supposed to be Random Day)
But you know I was thinking that....after the
Pretty Muddy Run
Saturday, I so want to, probably, maybe, just a little, give some thought on doing a half-marathon at some point, maybe in my next life...but hey it sounds good, right? Since I am a
G
and all at running here lately!! (hahaha...NOT), I really have been thinking about it for about......OH I don't know....maybe for about , I guess ummmmm 2 whole days now, I would say!! lol I'll keep ya posted on that random ass thought!! haha. I might want to sit down somewhere....because after that run, I could barely move. 13.1 miles I might just crawl around the house.....till I can feel my legs again!!
Leave y'all with another Pinterest recipe!! yesss all the one's I post I've tried!! I cook at home Sunday-Thursday..so I have 5000000 one's!! Sorry most I've tried before this whole blog thing so NO I don't have pics!!! Sorry, I suck, I know!!!
Chicken & Sun-Dried Tomato Orzo
!! Great, easy recipe! (ummm...and we love chicken in our house, so I had to find another good way to make it!!)
Servings: 4 servings
Prep: 30 mins
Total: 30 mins
INGREDIENTS
8 ounces orzo, preferably whole-wheat
1/2 cup chopped sun-dried tomatoes, (not oil-packed), divided
3 teaspoons chopped fresh marjoram, divided
1 tablespoon red-wine vinegar
2 teaspoons plus 1 tablespoon extra-virgin olive oil, divided
4 boneless, skinless chicken breasts, trimmed (1-1 1/4 pounds)
1/4 teaspoon freshly ground pepper
1 9-ounce package frozen artichoke hearts, thawed
1/2 cup finely shredded Romano cheese, divided
DIRECTIONS
1.
Cook
orzo
in a large saucepan of boiling water until just tender, 8 to 10 minutes or according to package directions. Drain and rinse.
2.
Meanwhile, place 1 cup water, 1/4 cup sun-dried tomatoes, plum tomato, garlic, 2 teaspoons
marjoram
, vinegar and 2 teaspoons oil in a blender. Blend until just a few chunks remain.
3.
Season chicken with salt and pepper on both sides. Heat remaining 1 tablespoon oil in a large
skillet
over medium-high heat. Add the chicken and cook, adjusting the heat as necessary to prevent burning, until golden outside and no longer pink in the middle, 3 to 5 minutes per side. Transfer to a plate; tent with foil to keep warm.
4.
Pour the tomato sauce into the pan and bring to a boil. Measure out 1/2 cup sauce to a small bowl. Add the remaining 1/4 cup sun-dried tomatoes to the pan along with the
orzo
, artichoke hearts and 6 tablespoons cheese. Cook, stirring, until heated through, 1 to 2 minutes. Divide among 4 plates.
5.
Slice the chicken. Top each portion of pasta with sliced chicken, 2 tablespoons of the reserved tomato sauce and a sprinkling of the remaining cheese and
marjoram
.
NUTRITION FACTS
Calories 457, Total Fat 12 g, Saturated Fat 3 g, Monounsaturated Fat 6 g, Cholesterol 68 mg, Sodium 372 mg, Carbohydrate 54 g, Fiber 10 g, Protein 36 g, Potassium 546 mg. Daily Values: Vitamin C 15%, Calcium 15%, Iron 25%. Exchanges: Starch 3,Vegetable 1,Lean Meat 3,Fat 0.5.
Percent Daily Values are based on a 2,000 calorie diet
Happy Tuesday!!!