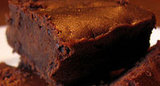 3/4 cup all-purpose flour
1/2 cup unsweetened cocoa
1/4 teaspoon salt
1/2 teaspoon baking powder
4 tablespoons unsalted butter, at room temperature
2/3 cup sugar
1 large egg
2 egg whites
1 teaspoon vanilla extract
2 tablespoons espresso
1/2 cup nonfat Greek yogurt
1/4 cup semi-sweet chocolate chips
1/4 cup chopped walnuts (optional)
I found this recipe in Shape and was curious to see how Greek yogurt would fare in brownies.
Preheat oven to 350 degrees. Line an 8-inch square baking pan with aluminum foil; spray foil lightly with cooking spray.

In a medium bowl, whisk together flour, cocoa, salt,and baking powder. Set aside.

With an electric mixer, cream butter and sugar at medium speed for 2 to 3 minutes, or until combined. Add egg, egg whites, vanilla and coffee. Continue beating until incorporated.

Scrape down sides of the bowl and reduce mixer speed to low. Slowly add flour mixture to the bowl, followed by yogurt, and mix gently until combined. The batter will be thick.

Stir in chocolate and walnuts if using.

With a spatula, spread mixture evenly in pan and bake for 20 to 25 minutes, or until a toothpick inserted in center of pan comes out dry. Cool on a wire rack before removing from pan and slicing into 16 squares.
Recipe makes 16 2-inch by 2-inch servings.
114 calories
5g fat
16g carbs
2g protein
1g fiber
16mg calcium
61mg sodium